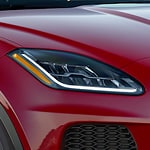 When you drive, you care about the exterior of your vehicle and how it looks when compared to the other vehicles that people drive on the road. The Jaguar E-PACE is a popular compact performance SUV that has exceptional exterior features to meet your needs.
For your optimal driving experience, the E-PACE is equipped with LED headlights that will light up your path as you travel. These headlights have been specially designed to shine for the entire lifetime of the vehicle with fuel efficiency and less energy usage in mind.
The E-PACE has an optional fixed panoramic glass roof. With the transparency of the glass roof, sunlight will flood your vehicle and light the vehicle's interior, thereby giving you and your passengers a spacious view of the sky and comfort during the day. Come visit us at Jaguar of Tacoma in Fife, WA to test drive an E-PACE and explore the exterior features.