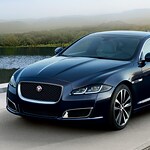 One of the highlights for car lovers in cities like Fife, WA, the Jaguar XJ is a luxury sedan that boasts the finesse and class that is signature of the Jaguar brand. The exterior is glossy, lustrous, and seamless, while the interior is comfortable, decked out with the latest, most helpful tech, and spacious. Available in two distinct styles—V6 standard or V8 supercharged—the Jaguar XJ is a sporty, elegant sedan that you can snag in your choice of metallic or clear coat colors, like Farallon black, Firenze red, or Loire blue.
The Jaguar XJ exterior features include side sills, a rear spoiler, and a signature black mesh grille for better airflow and an overall gorgeous aesthetic. Additionally, the floating roofline features a wrap windshield for panoramic views from the comfort of the driver's seat.
Looking to take a test drive of the Jaguar XJ? Come by Jaguar of Tacoma for more info and hands-on experience.