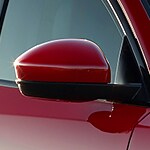 One of the hottest automobiles for 2020 is the Jaguar E-Pace. This compact-sport SUV is reveling in the spotlight, and it has certainly earned its praise. This vehicle is dynamic in every sense of the word, and here is why.
The new Jaguar E-Pace sports an exterior that's fit for a king or queen. This SUV appeals to a wide demographics thanks to its wonderful styling. The E-Pace is crisp and clean from each end. Though the body of this vehicle is short in length, it still possesses long flowing lines. The windows are enhanced to the fullest because they do a great of flowing with the SUV's architecture. It would be extremely hard trying to find a weakness with this design. Jaguar is also offering this SUV in a number of exotic paints.
There you have it. Our representatives are welcoming all enthusiasts to get a first-hand viewing, but you'll need to stop by our location.