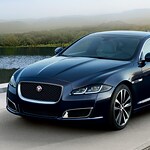 When it comes to luxury sedans, the automotive market has its fair share of contenders. The Jaguar XJ is no exception to the rule because it embodies every sense of the term that's known as a luxury sedan. Let's see what this amazing car has to offer.
The new Jaguar XJ appears as if it's cut from glass thanks to its striking features. This popular luxury sedan consists of smooth surfaces and sweeping lines for its exterior. The well-sculpted hood looks amazing as it flows down into the vehicle's chrome grille. The rear of the sedan matches the front with its striking LEDs. This is one of the most curvaceous automobiles in the luxury sedan class. There's also a taut waistline and chrome accents around the window sills. Jaguar also offers this sedan in various colors of the rainbow.
We urge all interested buyers to stop by our location today. Test drives are definitely on the menu.